While I was pregnant I read several articles about attachment parenting and fully embraced the concept of  babywearing.  In preparation, I attended an informal babywearing session where I was able to view several different types of slings, pouches and wraps that allow you to easily carry your child along with you.
Unlike the traditional Baby Bjorn or the Evenflo Snugli carrier, there are options that are more supportive and/or ergonomic for baby and parent AND allow you to carry into toddlerhood.  Unfortunately, most of these carriers aren't available in mainstream department stores (yet), so in order to see them in action, you must either seek out a store that carries them, order blindly online, or know someone who has a carrier you can try on for size and see in action.
I really liked the Kangaroo Korner's Adjustable Pouch and felt it would be great in the beginning.  Available in fleece or cotton (and even mesh) with a row of adjustable snaps, it is the simplest design I have seen and allows for skin-to-skin contact as well as easy access for breastfeeding.  I didn't imagine it would be terribly comfortable as the baby gets heavier, but for those first few months, it seemed to be the most dummy proof.  You can buy them new for around $50 – $60.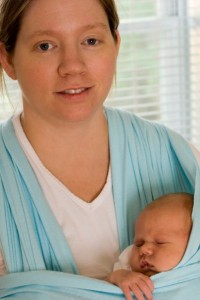 The Moby Wrap is basically a large piece of fabric that can be tied in a variety of ways to hold an infant or a toddler.  It is a favorite of many babywearers because of it's versatility and that if you make one yourself (Matt's mom made one for us), it is one of the most affordable options, however you can purchase one new for $40.  I really liked this when Haven was smaller, but haven't used it now that she is bigger.  One drawback is putting it on…it drags the ground, so you don't want to be putting it on in a parking lot or out in nasty weather.  A tip from another mama:  put it on before you leave the house, so it's already on you when you get to the grocery store.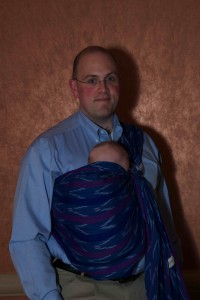 The Maya Wrap is another simple babywearing option AND it can also be made.  For a new sling, the cost is around $60, however, on their website they even give you directions on how to make your own.  How super cool is that?  A couple of moms I have spoken to prefer the Maya wrap earlier on before transitioning to the Moby Wrap when the infant gets heavier.  Oddly enough, this has been Matt's favorite way to carry Haven and was great to have around when she was little.  Several "daddy naps" were taken and was a lifesaver when Haven needed a nap and we were out and about.  As she has gotten bigger I can imagine it will be nicer to have when she can sit on our hip, but I'm beginning to think that we might be close to done with this one.
The Ergo Carrier (or Becco Baby Carrier) is by far the most ergonomic (hence the name) and manly carriers out there.  They both get high scores from babywearers.  It's comfortable, you can wear the baby in the front, hip or the back and one size fits all.  You might think it looks like your standard baby carrier, but look closely at how the baby's butt is being cradled, not just the crotch, which makes not only baby more comfortable, but less strain on your back as well.  If you are going to plunk down $100 for a baby carrier, might as well go for one that is more versatile.  This has been my favorite carrier, hands down.